When a life is almost over, people can look back with complete honesty, wisdom and clarity of hindsight, to see what mistakes they had made on their journey, and the deep regrets they had accumulated because of them.
The dying regrets listed below, were famously collected from elderly patients in palliative care by Nurse Bronnie Ware*, and they are an enormous lesson on what we can fix RIGHT NOW to make sure we too don't miss out on the most rewarding experiences that life has to offer because we were too busy chasing irrelevant, unimportant things: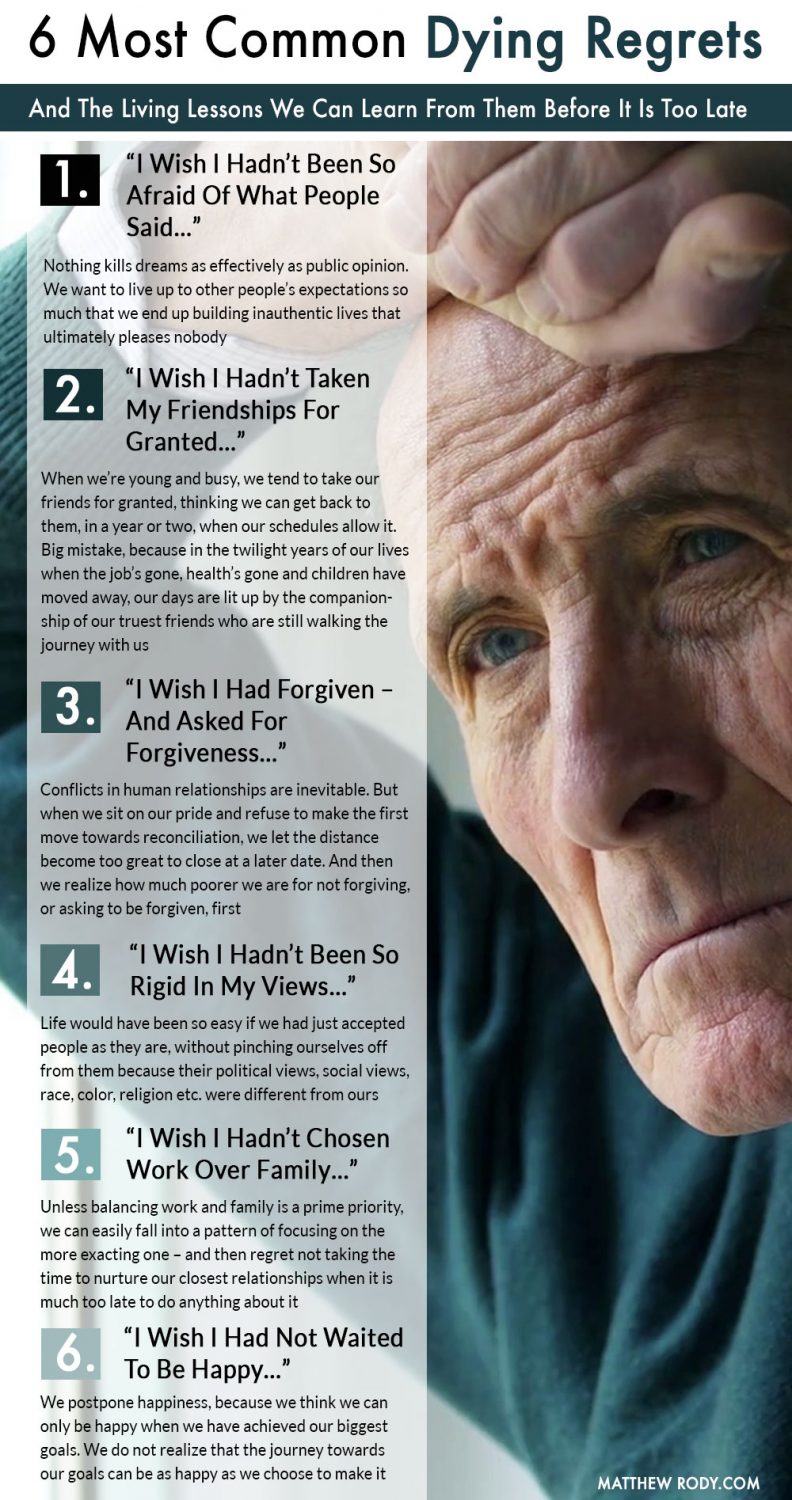 # 1: "I Wish I Hadn't Been So Afraid About What People Said…"
Nothing kills dreams as effectively as public opinion. It's the nagging voice at the back of our minds that stop us from following our hearts and making the best decisions for ourselves. We want to live up to other people's expectations so much that we end up building inauthentic lives that ultimately pleases nobody.
# 2: "I Wish I Hadn't Taken Friendships For Granted…"
When we're young and busy, we tend to take our friends for granted, thinking we can get back to them, in a year or two, when our schedules allow it. Big mistake, because in the twilight years of our lives when the job's gone, health's gone and children have moved away, our days are lit up by the companionship of our truest friends who are still walking the journey with us.
# 3: "I Wish I Had Forgiven – And Asked For Forgiveness…"
Conflicts in human relationships are bound to happen – especially with people we care for the most. But when we sit on our pride and refuse to make the first move towards reconciliation, we let the distance become too great to close at a later date. And then we realize how much poorer we are for not forgiving, or asking to be forgiven, first.
# 4: "I Wish I Hadn't Been So Rigid In My Views…"
With age comes wisdom, and with wisdom comes the realization that there isn't one `right way'. Everyone is unique as they are, and life seems so easy if we just accept their individuality without pinching ourselves off from people whose political views, social views, race, color, religion etc. are different from ours.
# 5: "I Wish I Hadn't Chosen Work Over Family…"
This regret is likely to increase in the coming years as more and more women choose high-pressure careers, and not just the men. Unless balancing work and family is a prime priority, we can easily fall into a pattern of focusing on the more exacting one – and then regret not taking the time to nurture our closest relationships when it is much too late to do anything about it.
# 6: "I Wish I Had Not Waited To Be Happy…"
We postpone happiness, because we think we can only be happy when we have achieved our biggest goals and desires. We do not realize that the journey towards our goals and desires can be as happy as we choose to make it, and having an extra hundred thousand dollars in the bank really mean nothing when we have stressed for years and denied ourselves rewarding experiences, like a proper vacation, in order to save it.
* The Top Five Regrets of the Dying: A Life Transformed By The Dearly Departing – Bronnie Ware